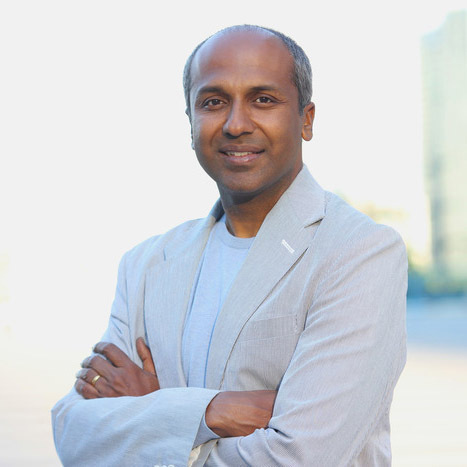 ABOUT @SREE: Sree Sreenivasan is the inaugural Marshall R. Loeb Visiting Professor of Digital Innovation at Stony Brook University School of Journalism, named for the legendary editor of Fortune magazine.
In addition, he is a leading consultant, speaker and trainer for nonprofits, corporations, startups and executives. In the last year, he's worked with clients in the US, UK, UAE, Switzerland, Hong Kong, Sri Lanka, India and Canada.
He has been Chief Digital Officer of major institutions in multiple industries: City of New York (working at City Hall); Columbia University (working on the future of education); and the Metropolitan Museum of Art (leading a 70-person team that helped keep the 150-year-old institution relevant in the smartphone age). Before joining the Met, he spent 20 years as a full-time professor at Columbia Journalism School.
He was named one of Fast Company's 100 Most Creative People in Business in 2015; the world's most influential Chief Digital Officer by CDO Club in 2016; and one of Poynter's 35 most influential people in social media in 2010. He is a contributor to CNBC's "Squawk Alley," appearing monthly to talk tech.
Every Sunday at 8:30 am ET for four years now, he's hosted the #NYTReadalong, reading the print NYT out loud on FB Live. He often has guests from various fields, including occasional NYT reporters and editors. You can find the archives at
http://fb.com/sreenet
He helped organize Social Media Day conferences at Princeton, Harvard, Howard universities, the University of Toronto, and the United Nations; and founded Social Media Weekend #smwknd.
He is cofounder of two journalism organizations: Online Journalists Assn (celebrating its 20th anniversary in Sept 2019; he was founding administrator of its prize program, the world's largest journalism awards program) and SAJA, the South Asian Journalists Assn, a group of 1,000+ journalists in the US and Canada (celebrating its 25th anniversary in Oct. 2019).
He taught a course on entrepreneurship at Columbia for four years with Ken Lerer, the co-founder of Huffington Post, chairman of Buzzfeed and co-founder of venture firm LererHippeau.
Part of Sree's story, told by PBS Newshour video:
http://bit.ly/sreenewshour and by Quartz: http://bit.ly/sreeqz and by Forbes: http://bit.ly/forbesjoblost
Sree's NYT guide to social media:
http://bit.ly/nyt2017
Five TEDx talks:
http://bit.ly/sreetedxvideos
NY Observer: Sree, the Twitter Tutor:
http://observer.com/2010/04/the-twitter-tutor/
LinkedIn: /sreenivasan:
http://linkedin.com/in/sreenivasan
Email:
sree@sree.net
Website: http://linkedin.com/in/sreenivasan